ACF has published a new report on how charitable trusts and foundations can promote diversity, equity and inclusion practices.
Diversity, Equity and Inclusion: The Pillars of Stronger Foundation Practice is the first report emerging from the Stronger Foundations initiative. It sets out nine characteristics of excellent practice in a foundation, which include collecting data on diversity, implementing DEI practices in funding activities, and making itself accountable to those it serves and supports.
Informed by the Diversity, Equity and Inclusion working group, external experts, the wider literature and ACF's own analysis, the report asserts that these pillars can be interpreted and pursued by all foundations whatever their remit, size or starting point.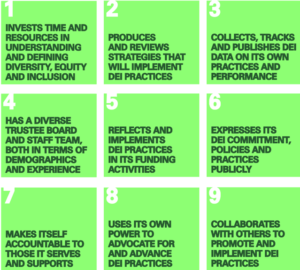 ACF is the membership body for UK foundations and grant-making charities. Driven by a belief that foundations are a vital source for social good, their mission is to support them to be ambitious and effective in the way that they use their resources. ACF does this through the provision of policy and advocacy, research and information, and a wide-ranging programme of events and learning.
Download the full report here
https://www.acf.org.uk/downloads/ACF_DEI_Thepillarsofstrongerfoundationpractice_final.pdf